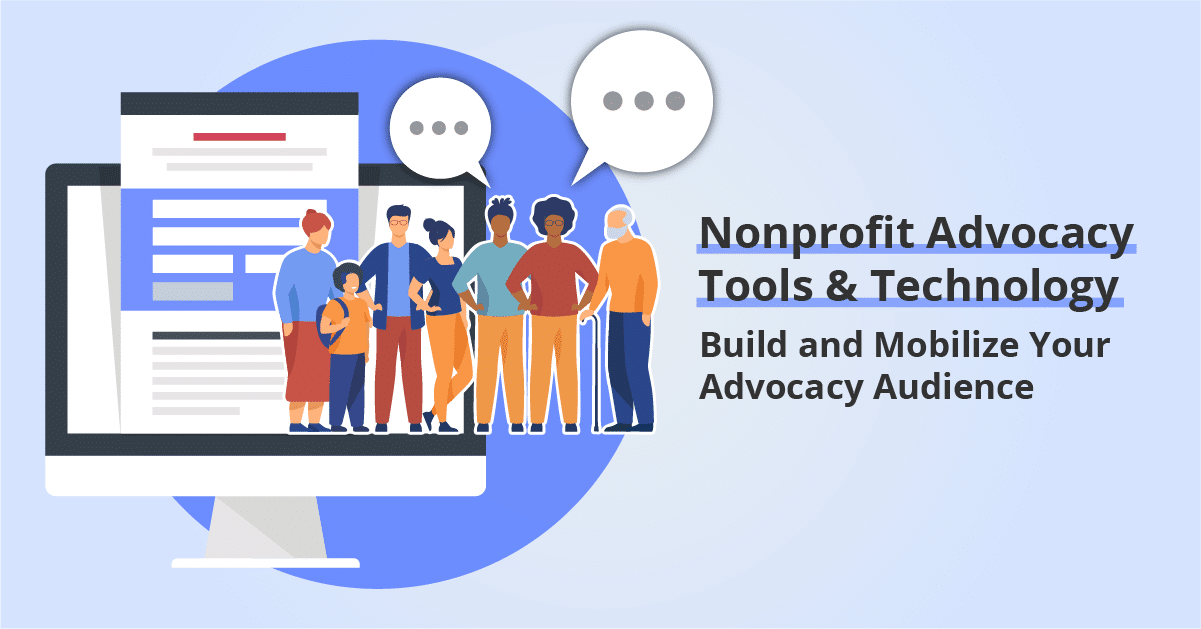 Three Components of a Successful Nonprofit Advocacy Campaign
Advocacy about taking action to create change. For nonprofit organizations, creating change around a social or environmental often requires some form of advocacy — organizing, speaking up, and shaping public debate in order to change public policy or the behavior of large corporations.
Bolder Advocacy makes the case best:
Every nonprofit can and should get involved in advocacy to help advance its mission. Advocacy shapes the public debate about issues that affect nonprofits. It's the number one way nonprofits can focus attention on the issues they care about, and bring about real change for the people they serve.

"Advocacy Defined", Bolder Advocacy
A successful advocacy program needs three ingredients:
Expertise: whatever the change is that you're trying to make, you — the advocacy program leader — need to be able to speak about the issue with some expertise and authority. Often this expertise comes from lived experience. Consider yourself an expert if you've directly experienced the negative impacts tied to your issue area and spent many hours engaged in conversation brainstorming ways to tackle the issue and create change. If you see opportunities to bring in other experts as allies, do it. The more expertise and authority you can rally around your campaign the better.
Enthusiasm: you will need to bring enthusiasm, passion, and commitment to your campaign. Building people power and creating change often takes a long time. Motivating people to become advocates means overcoming the inertia of doing nothing or feeling powerless. Your enthusiasm and energy will be key.
Tools: building people power means engaging a large audience, and today, much of that activity will take place online. Choosing the right tools and technology can help you leverage the power of the web and online communication channels to connect with your audience efficiently and directly.
In this guide, we're tackling #3 — the tools and technology you need to build a successful advocacy program. But first, let's look at the user journey we're trying to create for your advocates.
How to Build a Grassroots Advocacy Audience
We can break the process of building an advocacy audience down into five levels, illustrated in the graphic below. We'll explain each level here, and what tools you'll need in place to convert audience members from one level to the next.
You might hear this user journey called a "funnel" or a "ladder of engagement" in other places. The general idea is the same: as audience members move through the journey the number of people at each level declines, and level of engagement increases.
In the graphic above, these two variables are captured on the axes:
On the vertical axis, we have Audience Size. In the early stages of the journey the audience size is high. The number of audience members that convert through to the later stages will likely be lower, as the advocacy actions that define each level require more effort.
On the horizontal axis, we have Level of Impact, meaning the level of impact your audience members' advocacy actions might have on the policy makers you are targeting. Early in the journey, the advocacy actions have less impact than actions taken by advocates that make it all the way through to taking high-impact actions like meeting with lawmakers or organizing other advocates.
Let's look at each stage of the advocacy user journey in more detail:
1. Aware & Interested
Before you can invite your audience to become advocates, you need to (1) attract their attention, and (2) demonstrate that your nonprofit organization is leading the fight around your cause or issue area.
You'll need to use a mix of marketing and communications channels to do this — some ideas include:
Building a following on social media platforms
Securing earned media placements
Writing guest articles or providing interviews for other publishers with a relevant audience
Content marketing: writing educational content about the cause or issue
Conversion Goal: The goal for audience members at the Aware & Interested level is to convert them to email subscribers, the second level in the journey.
Building a big follower count on social media platforms is great, but your organization doesn't own that list. Social media platform algorithms change frequently and relying on social platforms as a place to build and communicate with your audience leaves you vulnerable to rapid changes in the social media landscape. We recommend you focus on converting social followers (or others whose attention you've captured through earned media or other content publishing) into email subscribers so you can communicate with them directly on a channel that you own.
While you can use a simple email sign-up form to encourage audience members to join your list, there are several advocacy-specific options you can use to build your email list. Here are two examples:
Petitions: offer a petition for audience members to "sign" online, showing their support for a policy or social change aligned with your organization's cause.
Pledges: similar to a petition, an online "pledge" can give supporters an option to demonstrate their commitment to taking further action in the future around your cause.
We'll talk more about the tools you can use in the advocacy tools for nonprofits section below.
2. Joined the Email List
As you build an advocacy audience on your email list, you'll need to keep them engaged with regular updates about your cause. As often as you can, provide your email list audience with opportunities to move on to stage 3 of the advocacy user journey: what we call the "low effort action" stage.
Conversion Goal: to move level 2 audience members to level 3, we need them to complete low-effort advocacy actions.
These are still easy and quick to complete from a computer or smartphone but are a step up in impact from signing a petition or pledge. Examples include:
Call your Elected Official, with a message prompt
Email your Elected Official, with a customizable message
Tweet at your Elected Official
In addition to having more impact on the Elected Official being targeted, these "low effort" advocacy actions also serve to enrich the data profile for your advocacy audience members. Typically you'll need to collect some geographic information from your audience members in order to determine which elected official they should target with their advocacy. In other situations, you may need to gather geographic data in order to send different calls to action to different segments of your email list (for example, if you are running a campaign around a bill in a specific state legislature).
We'll talk more about how to collect and store that additional data when we talk about advocacy tools below.
3. Completed a Low Effort Action
Once a portion of your advocacy audience has demonstrated a willingness to complete a "low effort" action, they may be ready to receptive to an advocacy call-to-action that requires more time or commitment.
Conversion Goal: to move level 3 audience members to level 4, we need them to complete a medium-effort advocacy action.
This medium-effort tier of advocacy actions might include:
Sharing a personal story to use in a Story Library on your organization's website
Coordinating a phone bank or letter-writing event
Volunteering with your organization
Helping organize a local event in their community
Again, as audience members show this increased level of commitment we want to capture their move to level 4 of the journey in the database tool you are using.
4. Completed a Medium Effort Action
Individuals who have completed a medium-effort action are now your prime audience for training as your most experienced tier of advocates. At this stage, your organization's communication with these advocates should have moved from your mass broadcast email marketing channel to personal email with your advocacy staff members, or perhaps a private community platform like Slack, a closed Facebook group, or a Discord server (choose according to the tech-comfort level of your audience).
Conversion Goal: to identify and train the most committed and effective advocates to join your advocacy staff in high-effort, high-impact advocacy actions.
Invest time in training these audience members as advocates who can support your team with high-effort advocacy actions like:
Participating in an in-person lobby day
Speaking with journalists to add real-life stories to earned media placements about your cause or issue
Private meetings with elected officials
Speaking at public meetings
Speaking at events, rallies, or fundraising events
5. Completed a High Effort Action
The number of advocates that reach the "high-effort" action stage of the advocacy journey may be fairly small, especially in comparison to the number of people whose attention you capture at the initial interest stage. From an audience of 10,000 at the initial interest stage, you may only have 50 advocates who can be relied on to join your advocacy team for high-effort actions like flying to DC for a Hill Lobby Day, or sharing details of their personal lives with the media to shape public debate.
And that's fine. Those time and energy volunteered by those 50 advocates will be priceless in pushing your campaign forward, and encouraging other advocates to move forward in their journeys.
One final tip before we move on to the tools and technology section: your most committed advocates can also help raise awareness and interest back at Level 1. Don't forget to encourage your best advocates to share about their partnership with your organization among their friends and networks, at speaking events, and on social media.
Nonprofit Advocacy Tools, Technology, and Software
In this guide we'll assume your nonprofit already has a website and some presence on social media. If you need more guidance about either of these topics, check our guide to building a nonprofit website, and our nonprofit marketing plan guide.
In the sections below, we'll introduce some additional tools, technology and software you should consider as you plan your advocacy-building program.
Email Marketing Platform
An email marketing platform is a must-have tool for building an effective advocacy program. It will allows you organization to:
Communicate directly with a large audience
Build segments within your audience who will receive different messages
Yes, most email marketing platforms can do much more than these two things. But these are the most important.
Every organization will use their email marketing platform differently, but here are a few tips to get you started:
Decide how to segment your audience. For an advocacy program, we recommend creating segments for the different advocacy levels described above. You may also need to create geographic segments based on where subscribers live (and vote): these could be states, or even more complex, Congressional Districts.
Take advantage of automation to welcome subscribers. As new subscribers join your list, take advantage of automation features to send a welcome email (or welcome email sequence) to new subscribers.
Determine how to use tags or custom fields to store additional data. In order to build segments, you will need to use the tag and/or custom field options that your email marketing platform provides to store that data. More robust email marketing platforms (like those we recommend below) include the ability to add various types of custom field to subscriber records, which can help with storing data like advocate level, address, or Congressional District.
Stay on top of email deliverability. Work with your email marketing provider to make sure your emails are optimized to land in your subscribers' inboxes. This may involve customizing settings on your sending domain's DNS records, and monitoring the bounce rates for email campaigns you send.
Pay attention to legal compliance. Make sure every email you send includes a clear unsubscribe link. This is just one of several practices you need to follow to stay compliant with the CAN-SPAM Act, and other online privacy regulations. You should also make sure every sign-up or advocacy form contains a link to your Privacy Policy which explains how you use and safeguard the data you store about your subscribers. Learn more in our guide to creating a Privacy Policy for your nonprofit's website — we recommend checking out the offerings from Termageddon to help you keep up with legal compliance in this area.
There are many email marketing platforms to choose from. Here are a few recommendations that we have seen work for nonprofit organizations (and that include all the functionality described above):
Advocacy Software
As soon as your budget can support it, we recommend investing in a purpose-built advocacy software package. The features vary widely, so you will need to do your research and select a vendor that provides advocacy tools that match the issue area and advocacy approach you want to use.
Here are some examples of the features you may want to consider:
Call or email your Member of Congress actions, where the elected official recipient is selected based on the user's address.
Call or email your State-level elected officials, where the elected officials are selected based on the user's address.
Call or email custom, non-elected official recipients, such as brands or corporate CEOs.
Petitions or pledges
Text messaging tools
Story collection forms
Voter registration lookup and Get Out the Vote (GOTV) tools
Submit public comments, integrating directly with government agency forms like regulations.gov.
As you start researching platforms, be aware that most vendors in the advocacy software space have developed tools that do much more than just digital advocacy. Many tools will also offer to be your organization's email marketing platform, CRM, or fundraising platform. Some provide basic websites or landing pages. And many also include features that will interest organizations with a more robust policy team, like legislative bill tracking at the federal and state levels.
In the course of your research you will probably run into this question: Should we invest in multiple different best-in-class tools to handle each function really well, or do we compromise on functionality for the convenience of having fewer tools overall? Every organization's response to this question will be different, and will depend on factors like budget, staff expertise, and your existing technology stack.
Here are a few leading advocacy software platforms you may want to explore:
If your organization's budget can't support an advocacy software package like those described above, you can still create some advocacy opportunities using an online form builder like Jotform. You can use a more sophisticated online form builder to create petition or pledge forms to embed on your website, and push the form fill data to your email marketing platform. For example, Jotform features an integration with Mailchimp that is surprisingly powerful, allowing you to push form data and apply Mailchimp tags.
Nonprofit CRM
Every nonprofit should have a tool that serves as a customer or constituent relationship management (CRM) platform. For brand-new nonprofit organizations operating on a low budget, this might be as simple as a spreadsheet. If building an email list was an early priority, other organizations may end up using their email marketing platform as a basic CRM (and many email platforms like Mailchimp position their product as offering basic CRM functionality).
However, once your nonprofit organization starts processing online donations at any significant volume, you'll need a donor CRM to keep track of those donation and donor records. Popular donor CRM options include Bloomerang, Network for Good, Little Green Light, or at the enterprise end of the spectrum, Salesforce.
In our experience, most nonprofit organizations have donation processing and a donor CRM in place before they start exploring advocacy software. If this is the case, we recommend trying to integrate your advocate records into your donor CRM as closely as possible, because engaged advocates are also great prospects for fundraising (and vice versa).
If your organization does not have a donor CRM in place and is focused heavily on advocacy, it may make sense to choose an advocacy tool that also offers a robust CRM capability and the option to manage fundraising, and skip maintaining a separate donor CRM system.
Workflow Automation Tools
Depending on the set of tools you've selected above, you may also need a workflow automation tool like Zapier or Make. These tools allow you to connect other software services together and push data from one platform to another when a built-in integration between platforms is not available.
For example, if your chosen online advocacy platform isn't able to push data about users who have completed actions to your email marketing platform, you may still be able to make this link using a workflow automation tool.
Both Zapier and Make have limited free plans, and both also offer discounts to nonprofit organizations on their paid plans.
Setting up a workflow automation tool can be complex. If you need help understanding whether you need a tool like this in your specific use case, get in touch.
Web Analytics
If you want to measure how members of your advocacy audience are interacting with your website you'll need a web analytics tool. The most popular (and free) analytics tool is Google Analytics. Read more about Google Analytics for nonprofit organizations here.
Using Google Analytics or another analytics tool you can track traffic and interactions on web pages that are important milestones along your advocacy journey. Here are some examples of metrics you may want to measure to help you improve the performance of your advocacy journey:
Pageviews and engagement rate on content designed to generate interest and awareness (e.g. blog posts)
Traffic sources for advocacy journey pages
Conversion rate for all forms that represent steps along the advocacy journey (e.g. email sign-up forms, petitions, pledges, online advocacy actions)
Monitoring metrics like these will allow you to determine which traffic channels are most effective in bringing visitors to your website, and which channels produce the highest conversion rates.
If you are using paid advertising to drive visitors to the start of your advocacy journey, make sure your campaigns are configured so you can distinguish paid traffic from organic traffic. Driving traffic to the start of your advocacy journey can also be a great use for the Google Ad Grant, which provides up to $10,000/month of Google Search advertising credit. Learn more about the Google Ad Grant here.
Advocacy Training for Nonprofits: Choosing Technology and Tools
If you need help finding the right tools to build or expand your nonprofit advocacy program, you're not alone! This is a challenging task that involves selecting new tools, getting buy-in from your organization's leadership or Board, implementing new tools, and integrating them with your existing systems.
To help you get started, we're sharing the assessment tool we use in our training and consulting engagements. The Nonprofit Advocacy Tools Assessment and Roadmap is a simple checklist that will help you identify which pieces of the advocacy program tools and technology your organization already has in place and which pieces still need to be built out.
If you have more questions, feel free to get in touch or use the link below to schedule a free consultation to discuss your organization's needs.
Need help
planning your advocacy audience journey?
We're here to help you research and plan the technology you need to build your advocacy program.
Related Articles